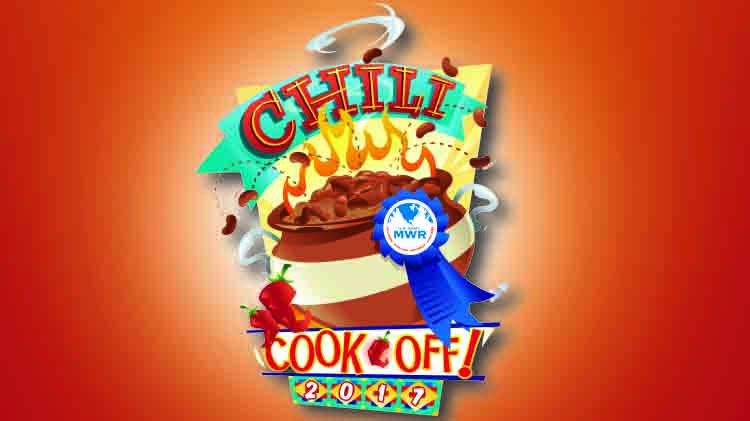 Note: This event has already passed.
Date: Oct 13 2017, 11 a.m. - 1 p.m.
Fort Jackson Fire House - Corner of Jackson Blvd & Hill St. Fort Jackson, South Carolina 29207 United States Google Map
Presented by the Fort Jackson Fire Department and Family and MWR
Chili Cook-Off
Friday, October 13, 2017, 11 am-1 pm at the Fort Jackson Fire House
(EMS Station, Jackson Blvd & Hill St.).
This event is part of Fire Prevention Week Oct. 8-14, 2017. Want more than just a taste? The Solomon Center will be selling big bowls of piping hot chili, with mini corn muffin and a drink for just $5. Vote for your favorite! Get a voting chip and wristband for $1. Taste all the chili. Pick your favorite. Drop your chip at their booth.
All proceeds go to Family and MWR to support quality of life programs at Fort Jackson.
Registration Info
To enter, call William Sexton at (803)751-5239 or Theresa O'Hagan at (803)751-6990 by October 5, 2017.
2017 Chili Cook-Off Official Rules
1. All ingredients must be pre-cooked and treated prior to the event . Chili is to be brought "ready-to-eat"
2. Contestants are responsible for supplying all of their own products relating to their chili submission and maintenance of its proper temperature for serving. Spoons and cups for use in serving chili to the judges will be provided.
3. Each contestant must cook a minimum of four (4) quarts of competition chili. Contestants are permitted to prepare only one (1) pot of competition chili, which will be submitted for judging.
4. Each contestant will be assigned a "contestants number" by the Chief Scorekeeper and be given a container in which their chili will be collected at the time of the official judging (11 a.m. ) Each contestant should verify that the number on the bottom of his/her container is the same as his/her contestant's number assigned to him/her by the Chief Scorekeeper.
5. The judging of the Chili Cook-off is open to all Fort Jackson employees and family members. Judges will be given a poker chip to place in the cup in front of their favorite chili. All decisions are final.
6. Each contestant is responsible for cleaning up the area at the end of the contest and removing all items from the area. No items shall be allowed to remain after the close of the Cook-off.
7. All contestants must complete an online Food Handlers Safety Course and have a copy of the certificate with them at the cook-off.
The course is available at http://moncrief.amedd.army.mil/HealthcareServices/SitePages/Food%20Operation%20Safety%20Course.aspx
Don't worry. It only takes a few minutes.
Please note: Field is limited to 25 contestants. Please arrive in plenty of time to set up your booth. A table and two chairs will be provided for each registered contestant.